Inksater's
Address
97 Grand River St. N
Located in
Paris
Original function
Business
Current function
Store
Coordinates
43° 11' 38", -80° 23' 3"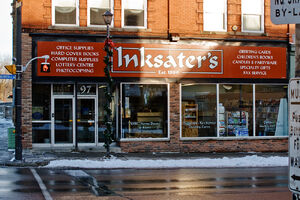 Inksater's is a stationery store in Paris. Originally established in 1889 as Fisher's Book and China Store by Senator John Fisher, it was later sold to Frank Inksater[1] and continues to operate under the Inksater name today. It is one of the oldest stores remaining in operation in Paris's downtown core shopping district.
Notes
References
Stewart, Don. (n.d.) Memories of Paris: A Sentimental Journey back to the Prettiest Little Town in Ontario. Paris?: No publisher.
Memories about Inksater's
You can contribute your own memories about Inksater's by clicking here.
Links