John M. Hall Linens
Address
43 Grand River St. North
Located in
Paris
Built in
1891
Original function
Business
Current function
Linen store
Coordinates
43° 11' 35", -80° 23' 2"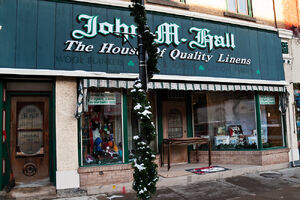 John M. Hall, The House of Quality Linens is a dry goods store located on Grand River St. N. Opened in 1891, it is one of the oldest stores still in operation in Paris's downtown core. It specializes in tablecloths, placemats, bath towels, hand towels and face cloths.
John Hall (b. 1867) was one of the five children of Thomas Hall, a Scottish immigrant who originally came to Canada in 1855. The elder Hall owned a dry goods store some time before his son opened the current, much longer-lived store. The family lived at one time in the Dr. Sowden House.
Memories about John M. Hall Linens
You can contribute your own memories about John M. Hall Linens by clicking here.
Links