Mitchell House
Address
16 Broadway St. W.
Located in
Paris
Built in
1840
Renovated in
1885
Original function
House
Coordinates
43° 11' 35", -80° 23' 9"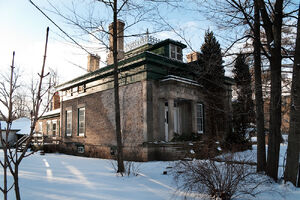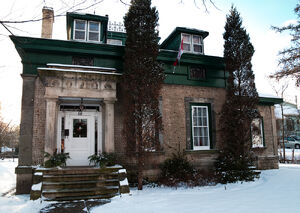 Charles Mitchell House is one of the most noteworthy cobblestone houses in Paris and is considered builder Levi Boughton's best work[1]. Built in the 1840s, it merged the distinctive cobblestone style with Greek Revival architecture[2]. Its evenly-rounded cobblestones are said to have been collected by Mitchell himself, and are arrayed in an attractive, slightly slanted pattern[3]; the cobblestones' regular, stippled design mediates the otherwise grand look of the Doric columns, cornices, and porch[4].
A later side addition from 1885, built as a doctor's office[5], retains the original style and blends in well with the original building[6]. It marks one of the last constructions in the cobblestone style[7].
Memories about Mitchell House
You can contribute your own memories about Mitchell House by clicking here.
Notes
References
Ashenburg, Katherine. (1996). Going to Town. Toronto: Macfarlane Walter & Ross.
Chapple, Nina. (2006). A Heritage of Stone: Buildings of Niagara, St. Catharines, the Hamilton Escarpment, Paris, Cambridge, Waterloo County, Guelph, Fergus and Elora and St. Marys. Toronto: Lorimer.
County of Brant. (n.d.) County of Brant Heritage Driving Tour. Retrieved January 11, 2010, from [1]
Links